Akpabio fulfills promise to committed boy
Senator Godswill Akpabio has fulfilled the promise he made to a boy, Elijah Aniefiok Edem during the solemn assembly by the All Progressives Congress on Sunday.
Master Edem from Mbiabong Ikot Essien had last Sunday on sighting Senator Akpabio, out of sheer excitement removed the T-shirt he wore, threw it on the floor and asked the Senator to march on it.

The story of Boy Edem is unique. Although both parents are alive, they are separated. They have both remarried. He lives with his grandmother, Mrs Ema Ani Edem who takes care of him. He is a presently in JS 3 at Secondary School, Etoi. He sells pure water to support the grandmother.
On this fateful day, the Boy had abandoned his pure water business when he learnt Senator Ekere's campaign ground along Four Lanes.
He defied the security cordon around the Senator and removed his shirt, threw it on the floor for the Senator to walk on. Moved by the commitment of the Boy Senator Akpabio promised to give the Boy five hundred thousand Naira to replace the T-shirt.
On Tuesday, December 4, 2018, Senator Akpabio through his Special Assistant on Media, Anietie Ekong presented the five hundred thousand Naira cash to Boy Elijah and the grandmother.

Mr. Ekong later took Elijah to a boutique and literally changed his wardrobe by buying shirts, trousers and shoes for the boy. He later took the Boy and the grandmother to a bank and opened an account in the Boy's name to be operated by the grandmother and deposited the five hundred thousand Naira for him.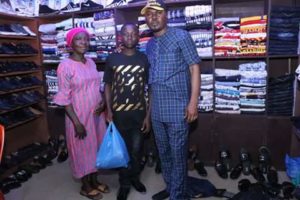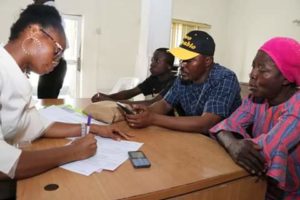 The elated grandmother said the gesture by Senator Akpabio was God's visitation to her family. She explained that she had taken care of Elijah from birth and asked him to sell pure water to support her. She works as a nanny.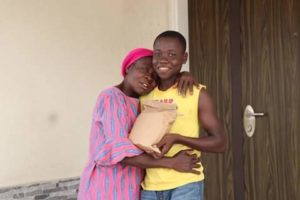 She said on the fateful day when aides of Senator Akpabio brought her grandson home bare bodied she thought the Boy must have done something against the law until the Special Asistant to the Senator explained that the visit was for good.
She prayed for the Senator and his family and said God will see him through his political endeavours. She said the funds will be utilized to train Elijah.