While some graduate wait for opportunities which may never come, some engage in criminal activities to get going. Notwithstanding, there are always ones who do everything within their means to survive on honest labour.
One such person is Francis Tetteh, a young man who sells food to help cater for his younger siblings.
In a chat with Legit.ng, Francis who hails from the Apam in the Gomoa West District of the Central Region in Ghana, revealed that he sells cooked yam with egg stew and palaver sauce in the morning and fried yam with chicken in the evenings.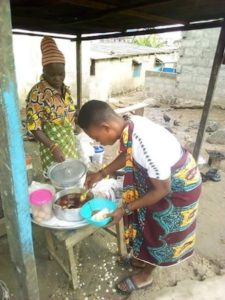 The 22-year-old graduate of the Panfokrom National Vocational Training Institute (NVTI) sells yam in the morning and evening to help his younger ones.
Explaining what led him to undertake such a venture, he stated that after completing his NVTI course, there was no money to further his education and he was yet to secure a job but had to make ends meet.

Also, Francis' mother has been sick for sometime now and though he has some elderly brother, he is the one taking care of their younger siblings.