The Vice Chancellor of the University of Calabar, Prof. Florence Banku Obi had charged men and officers of the Security Department of the Institution be good ambassadors of the university in discharging their duties.
Prof. Obi gave the charge while declaring open a 5-Day Training Programme organized by the University in conjunction with Stripes of Africa with focus on "ADVANCED STRATEGIC SECURITY ORIENTATION" held in the auditorium of the Institution's Centre for Teaching and Learning Excellence.
However, while commending security personnel of the citadel of learning, Prof Banku praised the Security outfit for their display of gallantry in the face of debilitating challenges, the university helmsman urged them to take the training programme seriously in order to build capacity and further sharpen their skills.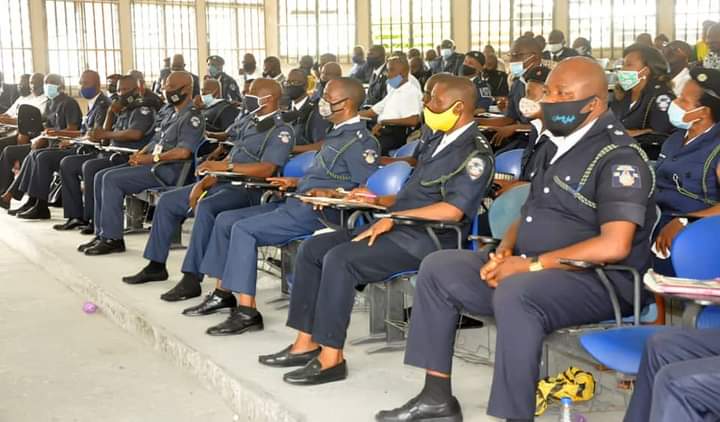 She urged them not to make the mistake of downplaying the importance of any training workshop because it is hosted internally, but to take advantage of all such opportunities and develop themselves.
Prof. Obi especially thanked the consultant for making the sacrifice of accepting to hold the workshop at a time the university was grappling with paucity of funds.
The Vice Chancellor who admonished the Security Personnel to strive to always engage in both physical and mental exercises so as to stay sharp and keep fit, informed that she is negotiating to acquire training/work equipments so as to enhance productivity.
READ ALSO: UNICAL Security Arrest Thieves On Campus
In a remark, Course Director/Lead Facilitator of the programme, Mr. Dodeye Arikpo commended the Vice Chancellor for her commitment towards the development of the Security Department of the University.
Describing her as a very good listener, the Abuja based Security Consultant and Managing Director – Stripes of Africa – urged men and officers of the Department to give her their maximum support.
Also speaking, the Ag Chief Security Officer, Unical, Rtd SP Usani Okon thanked the Vice Chancellor for organizing the workshop at a time as apt as this, adding that, she has displayed an uncanny perception of the security department which she is making practicable with her every action.
Describing the Vice Chancellor as a go-to-person who does what she says, the AG CSO also said because she has a very wonderful and practicable vision, he wishes to pledge the total loyalty and commitment of the Unit to assist in making her vision achievable.
SP Okon Usani opined that the training programme will help operatives of the department keep abreast with current security operations in line the Vice Chancellor's of the security department.
READ ALSO: UNICAL Vice-Chancellor inaugurate COVID-19 Task Force
The workshop will also have as resource persons; a Rtd Director of the SSS, solicitor and advocate of the law, Mr. Nsekhe Ukpanah; a Rtd CSP and former MOPOL commander and security expert, Mr. Daniel Ofem and an ICT expert and Analyst, Mr. Sam Mbeku.